Thodio A-BOX™ Heavy Edition
The Original .50 Cal Ammo Can BoomBox
Reviews:
"Militia chic with clear and punchy sound" -Wired Magazine on the A-BOX Heavy edition
"I expected something good but the sound is just perfect, I've got 2 80Watts home audio peakers plugged on a amplifier, with an already very good quality but your box beat them on the punchy aspect, the gradings are just perfect, it slaps you in the face, and no vibrations, every detail is over-clean, you're a Dutch magician" -Charles D. from France on the A-BOX Heavy edition
"I received my A-Box about a week ago. I love it! Great design, great sound. Can't wait to hit the beach with it this summer! Thanks again for the great product" -Joseph P. from the US on the A-BOX Heavy edition
"The sound is amazing!!!!! I have no idea how so much sound can come out of such a small box!! and a metal one at that!! Absolutely fantastic job mate! Worth every penny. Well done sir" -Jose R. from the US on the A-BOX Heavy edition
"As you go through life, you hope to get an honest shake. Very few times are you surprised when you get more. This is one of those times!" -Greg C. from the US on the A-BOX Heavy edition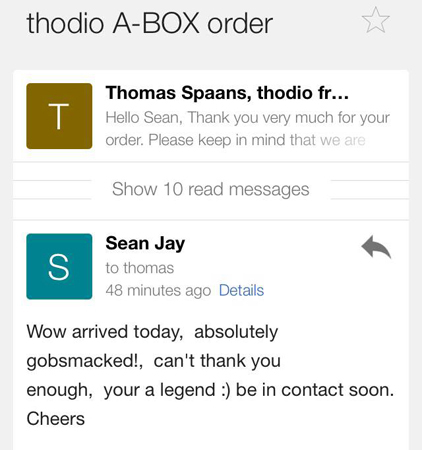 Description:
The A-BOX Heavy edition is an original .50 cal ammo can converted into an extremely powerful wireless audiophile bluetooth speaker, which makes it, the most unique bluetooth speaker on the planet.
Next to the unique looks, the robust mil-spec design allows you to use it everywhere, anytime, whether you are at home, in the park, on the beach or if you need to intimidate the enemy in a warzone from a helicopter (yes, Apocalypse Now) because it can handle a bump, drop and even some rain and napalm unlike all the plastic speakers available.
We reinforced and insulated the metal can with 3 different materials to get it to sound as great as its hand crafted solid wooden brothers, the iBox and the iBox XC do.
The 200 watts RMS audiophile amplifier driving the custom filtered kevlar coned coaxial speakers with softdome tweeters are what make this box boom. Louder and with more transparency than any portable bluetooth speaker or boombox you have ever experienced. Everybody in the neighborhood will know who is coming when you turn this baby up, whether youre inside the house or outside…
You can wirelessly stream your beats from any bluetooth device to the A-BOX with the optional integrated HD lossless aptX/AAC bluetooth module. 
Or turn your A-BOX into an audiophile guitar amplifier with the optional guitar bus.
As with all Thodio boomboxes, the sound is much bigger than the box itself, it's truly amazing what an incredible sound is produced by a box that fits into your backpack… it will amaze and impress everyone that experiences it.
The light in the bass reflex tube will tell you how long you will be able to party before you have to recharge.
The A-BOX is also provided with an automatic charger which can also be used as a permanent power supply to have unlimited music while plugged into the net.
The integrated rechargeable battery will last for up to 12 hours (upgradeable to 51 hours) on a single charge.
All Thodio Products come with a not satisfied 100% money back guarantee and a 3 year warranty.
Features:
Fully handmade in Amsterdam

4 inch modified coaxial Kevlar speakers with Softdome tweeters with audiophile filters (Softdome tweeters visible in the latest pictures)

5.9-6.9 kilos / 12.9-

15.2 pounds depending on battery

Besides iPods, iPhones, other (smart) phones, mp3 players, laptops and other (bluetooth) audio sources the A-BOX can be used as guitar amplifier too, a 1/4" bus can be mounted on request.

integrated rechargeable battery lasting 12 hours per charge (upgradeable to 26, 46.5 or 51 hours contact us for pricing and ordering)
Optional USB charge bus to charge all mobile devices, contact us for pricing and ordering

New! External volume control

New! Internal volume control/preset

Battery indicator lights inside the bass reflex port

Dimensions 30 x 15.5 x 19.5cm / 11.8 x 6.1 x 7.7 inches L x W x H

3.5mm aux input

including a fully automatic charger (comes with US plug for US orders and works with all net voltages worldwide) which can be used as a permanent power supply, a 3.5mm jack plug aux cable and a 3 year warranty
Shipping within the Netherlands: 5.50€
Shipping within Europe: 15.50€
International shipping: 32.50€
Also available, the Thodio A-BOX light edition with 2 x 15 watts rms of power...